Meet Our Team Monday: Mrs. Samantha Geary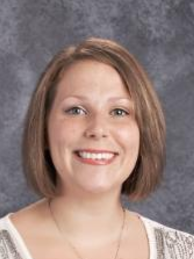 This week we are excited to welcome Mrs. Samantha Geary, an alumna of SDCSC and first grade teacher at Dillsboro Elementary School, to the Meet Our Team Monday spotlight.
Mrs. Geary attended Manchester Elementary School, South Dearborn Middle School, and graduated from South Dearborn High school before heading to Ball State University to obtain her Bachelor in Science in elementary and special education. This is her third year teaching at DES and she says, "I absolutely love it!"


We asked Mrs. Geary about teachers who may have had an impact on her life. She replied, "I have several teachers that had a large impact on me. Some of my favorite teachers were Miss Luhrsen, Mr. Louden, Mrs. Dole, and Mr. Nobbe. They all challenged me to do my best academically and taught me about the importance of having good character. These teachers influenced my love of learning and helped me to become the person I am today."
She went on to share that she always enjoyed working with children, and often played school with her younger sister, Savannah, during the summer months. "While in college I decided I wanted a job that made a difference. Teaching made the most sense to me. In what other profession could you touch the lives of so many others?"
Mrs. Geary loves Dillsboro Elementary. She says, "The students are wonderful and put forth great effort in their schooling. My coworkers are fantastic! I love the collaboration and support we give to each other."
Mrs. Geary has the same goals every school year. She hopes that she can help students love learning. "I hope they remember all of the fun activities we do, and above all else, I hope they know how much I care about them."
Outside of school, Mrs. Geary enjoys spending time with her husband and two children, as well as their beagle. "We enjoy spending time outdoors, specifically playing tennis and swimming. I absolutely love the beach! I don't care where I go on vacation, as long as there is a beach! I also enjoy scrapbooking and crafting."

We asked Mrs. Geary what advice she has for SDCSC students and she replied, "Never give up. You can achieve anything you put your mind to, through hard work and perseverance."
Thank you for sharing with us today, Mrs. Geary!