Meet Our Team Monday: Angie Little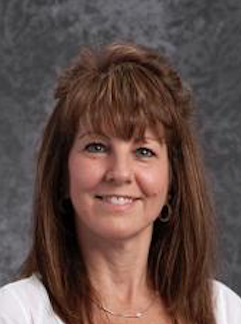 Today we welcome Mrs. Angie Little of Moores Hill Elementary School to our Meet Our Team Monday spotlight.
Mrs. Little grew up in Moores Hill and is a graduate of South Dearborn Community School Corporation. Although she and her husband moved to California for a few years while he was stationed in the Marine Corp, they chose to return to their hometown of Moores Hill to settle down and have called it home ever since.
Mrs. Little has been with MHES for 11 years. In that time she has served the students of Moores Hill as a library paraprofessional, but recently she traded in her library books for a desk as the new secretary.
Mrs. Little says that she has thoroughly enjoyed her years at MHES. "I love working at school because you get to make a difference in the lives of children and there is never a dull moment. The people I work with are great and make coming to work a pleasure."
We asked Mrs. Little how she likes to spend her time away from schools. She responded, "My husband and I celebrate 27 years of marriage this year. We have raised three daughters who have since married and blessed us with three beautiful grandchildren. I absolutely adore my family and spend as much time with them as possible. I also love to read and be creative in my spare time."
Thank you, Mrs. Little, for sharing with us today!