Meet Our Team Monday: Mrs. Amy Beam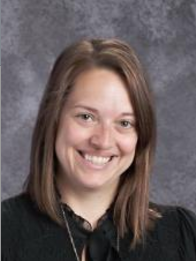 Join us in welcoming Mrs. Amy Beam to the Meet Our Team Monday spotlight.
Mrs. Beam is an SDCSC alum, having attended Moores Hill Elementary School and graduating from South Dearborn High School. She went on to further her education at Franklin College and received a bachelor's degree in elementary education.
She began her teaching career at Aurora Elementary School, filling in for teachers on extended leave, before moving on to Manchester Elementary School during her second year of teaching to step into the role of art teacher. Since then, she spent seven years teaching third grade, and is currently in her third year of teaching fourth grade at MES.
Mrs. Beam says her favorite teacher was Mrs. McCarty at MHES. "She had a heartwarming smile and made every student feel like they were the smartest kid in the world." She says that she chose to go into education because, "I wanted a job where I could make an impact on children's lives."
We asked Mrs. Beam what she enjoyed most about working at MES and she replied, "I enjoy working at Manchester Elementary because our students and our staff are the best! Manchester is a small community that joins together when someone needs help. My work family would do anything to help someone in need. MES has an excellent support system. SDCSC still has that small time country feel where you can go to the football game Friday night and cheer on your neighbors."

Mrs. Beam says that her hope for this school year is much the same as every year. "I want to work in an environment where my students feel safe to try new things, be creative, have fun, and become lifelong learners."

Outside of school, Mrs. Beam enjoys spending time with her 16-month-old daughter, Amelia, and loves to see her learning new things. "I read to her every day, and we love to work on puzzles together." She says the other thing she loves to do is travel. "I have been to 8 different countries and 21 of the states. Hopefully one day I will have all 50 states marked off the list." She says she could spend all summer at the pool, and loves reading. "I have too many favorite books to decide on just one. My favorite book to read to Amelia is Little Blue Truck."

Mrs. Beam's advice for SDCSC students is simple: "Read, study, travel, make memories, and work hard in school!"
Thank you for sharing with us today Mrs. Beam!