Meet Our Team Monday: Rachel Ransom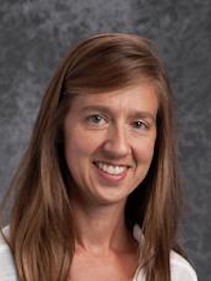 Today we are pleased to welcome Ms. Rachel Ransom, first grade teacher at Moores Hill Elementary, to the Meet Our Team Monday spotlight.
Ms. Ransom is a graduate of South Dearborn High School and received her degree in elementary education from Purdue University. She has now been teaching for 15 years.
When we asked Ms. Ransom why she chose to become a teacher she said, "I chose education because I really like teaching kids new things. Besides enjoying seeing them get excited about learning something new, they are fun people to be with. They have creative and fun personalities that are usually positive, and that puts a smile on my face."
The teacher she remembers most fondly from her own school days is Mrs. Kaiser, her third grade teacher. "The one thing that stands out is that she let us play Hollywood Squares at the end of the day if we had time. I don't remember many details about playing the game, but just that I was always excited to play."
We asked Ms. Ransom what she loves about being part of SDCSC and she replied, "I love my co-workers. We get along well, which makes it a positive and fun place to be. We have an administrator who listens to our thoughts and ideas and isn't afraid to laugh with us. She thinks outside the box and isn't afraid to try new things, which keeps us from getting in ruts."
Ms. Ransom says the number one goal she holds for her first grade students is that they learn to read on their own and find it easy and enjoyable to do. When we asked what advice she would give students of any age she replied, "READ! Just read anything! And after that, have fun in life. Have fun with friends, have fun with family, and have fun by yourself! Also, travel to a new place once a year."
Outside of school, Ms. Ransom enjoys traveling as much as possible. "I like new places and seeing things I haven't seen before, so summer breaks are the best time of the year." She also loves to read many different types of books." My favorites are any books by Mo Willems (The Pigeon, Naked Mole Rat, Piggie & Elephant books), and The Name of the Wind by Patrick Rothfuss."
Thank you for sharing a little about yourself with us today, Ms. Ransom!