Meet Our Team Monday: Mr. Justin Selmeyer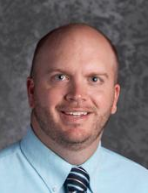 Justin Selmeyer, South Dearborn High School's choral director and Opening Knight Show Choir coach, has called South Dearborn home his entire life. He's a former Dillsboro Elementary School student, and graduated from South Dearborn High School in 1998. While at SDHS, Mr. Selmeyer was heavily involved in the choir, Opening Knight Show Choir, marching band, and drama productions.
Now in his 14th year of teaching, all 14 with South Dearborn Community School Corporation, Mr. Selmeyer says he became an educator because he enjoys being around young people. "Teaching is one of the most rewarding professions to be a part of and I chose music because of my love for music. I excelled in vocal music and wanted to share my passion for vocal music with the kids."
Mr. Selmeyer says that his goal is to keep moving SDHS's musical traditions forward in a positive manner. He says, "There is so much pride in the community for our music programs and it is definitely an honor to be a part of it. I would like to grow our award winning choral program. I am always looking to get more students involved in our program."
When he's not hard at work on plans to see the music programs excel, Mr. Selmeyer enjoys spending time with his wife and young daughter, and watching IU and NKU men's basketball. He and his wife also share a love for Disney and enjoy traveling to Walt Disney World.